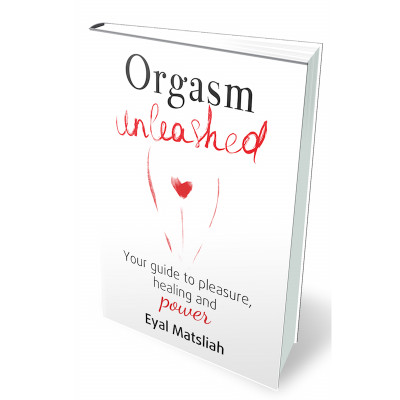 Are you struggling with reaching deep fulfilling orgasms?
How would it feel if you could easily orgasm for hours?
How would it affect your relationship, career, and other aspects of your life?
My book 'Orgasm Unleashed – Your guide to pleasure, healing, and power' answers all of these issues.
The purpose of this book is to guide you in deepening and expanding your orgasmic experience, first by yourself and then later sharing that with your lover. The practices are designed to help you become more expressive, empowered and better connected to your femininity. Whatever stage of this journey you are at – whether you are already multi-orgasmic or have never had an orgasm – your experience of sexuality will transform.
"This book is full of so much beautiful, healing wisdom that is shared in a way that is incredibly easy to understand and implement. It covers the full range and sexual depth that some books around female orgasm miss. I highly recommend this book for any woman who wants to fully unleash and experience her orgasm beyond what we normally consider an orgasm to be." ~Amber Leitz,  Sensuality & Sexuality Coach
You will learn:
How to reach your first orgasm
How to experience intense, long, and meaningful states of orgasm, even up to an hour!
What's stopping you from orgasming, and what to do about it.
Over 20 different kinds of female orgasm
How to heal yourself – by yourself
Tons of practices, exercises and techniques to help you turn the theory into an orgasmic reality!
Harnessing your sexual energy to become more creative, confident and successful
How to transform your life with the power of your sexual energy
"I can't believe how much I didn't know and the unnecessary amount of pressure I was putting myself under trying to 'orgasm.'… You have literally helped change my life."
'Orgasm Unleashed' has already reached #1 best seller in "Human sexuality" on Amazon.
You can buy the ebook version on Amazon and read it on your kindle, phone, tablet or laptop. Or order a 'real' physical paperback copy of the book.
If you are searching for the book by its title, you might need to choose "Show adult content".
You can also order the paperback version from Book Depository with a 12-15 days FREE delivery anywhere in the world.
Try before you buy?
To read a 70-pages sample, enter your details below. You will also receive my weekly insights on sexuality, personal development and conscious business.
"You just changed my life so I wanted to say thank you…  I had lots and lots of goddess spot orgasms. First time ever. Beautiful. I cried a lot. It was so easy, but nobody ever told me HOW"
"Although it's written for a woman reader in mind, it would also greatly serve any man who is curious about the female orgasm and interested in bringing more pleasure to his partner. Highly recommended!" – Senses Private Club
"Eyal has written a very clear and all encompassing book that explains in detail how you can experience more powerful orgasms and live an orgasmic life. It has everything from helpful anatomy to sexual practices and mind-set shifts that are very important for any woman who wants to experience deeper pleasure and sexuality" ~ Layla Martin
"This book contains genuine wisdom about female sexuality and female orgasmic pleasure. As a female reader, I loved how encouraging the tone of the book is and how much permission-giving there is embedded throughout the book. Even at first glance I learned things I did not know about my body and my orgasmic potential and I felt encouraged to explore things I had wondered about and things I had never even considered." ~Louise
"As a man reading Orgasm Unleashed, this book provided valuable insights into female sexuality, and helped rewire my perspective and my relationship to women's pleasure. Our sex education in the West is rubbish. It's about time as mature adults that we step up to the plate, take the reigns and actually start to learn and embody these teachings and gain a much better understanding and embodiment of our sexuality " ~Anonymous
"This book is AMAZING! I've been working with women's sexuality professionally for 4 years now, and this is the first time I'm reading a sexuality book and actually agreeing with it all… the tools and techniques he recommends are tried, tested and proven to result in deep, blissful, ecstatic orgasmic states, release of tension and trauma, empowerment, self-love, confidence and amazing sex!" ~Bonnie Bliss
www.blissrevival.com
"In an area that can be both confrontational and confronting for the uninitiated, author Eyal Matsliah gently guides women on a journey of self-discovery. Each chapter delves deeper than the previous one and, if you follow the practices, this book has the potential to transform your relationship with yourself, your body and your partner. Ultimately, it could change your life." ~Jacqueline
"Eyal's book 'Orgasm Unleashed' brings the power back to women."
~ Maj Wismann, Clinical sexologist, Denmark